PC gaming hardware grows evermore gigantic each year, with monstrous desktop graphics cards demanding full-size tower cases with plenty of breathing room. For anyone looking for the best gaming laptop instead, compact variants often compromise performance in favor of portability. However, it seems manufacturers this year are turning the tables with a resurgence of 18″ laptops, supercharged for portable play, and Razer is ready for action.
Expanding its range of already-successful Razer gaming laptops, the Blade 18 is an oversized behemoth somehow loaded with cutting-edge components like Intel's 13th Gen Core processors and NVIDIA's RTX 40-series mobile GPUs. How a skinny laptop can harness all that power in such a tight space comes down to an ingenious combination of cooling solutions and intelligent design choices. Putting the second-highest configuration through its paces for my Razer Blade 18 review, I'll explain exactly how it fared in benchmarks and everyday use.
Blade 18: Price and availability
Razer sells Blade 18 laptops through its official website ranging from $2,900 to $5,000 MSRP. The Blade is packaged with 1x AC cable suitable for your region with a collection of quick-start guides no matter which configuration you choose, and all variants feature an 18″ QHD+ 240Hz panel. Personalized selections relate to the type of NVIDIA GeForce RTX dedicated graphics card, memory, and storage options, although Windows 11 Home remains the only choice for an operating system.
Of the five models available while writing this review, Razer sent me a loan of the second-highest specification for the Blade 18, which currently retails for $4,500. While a more expensive variant includes an upgrade to a 13th Gen Intel Core i9-13980HX CPU, Razer drops the speed of its RAM from 5600Mhz to 5200Mhz in favor of doubling the memory bandwidth from 32GB to 64GB.
Razer provided a sample for this review but did not see the article's contents before publishing. See the full specs breakdown below for the exact hardware included in my sample unit.
---
My recommended Razer Blade 18 configuration:
Swipe to scroll horizontally
Header Cell – Column 0

Razer Blade 18
Processor
13th Gen Intel Core i9-13950HX (5.5 GHz)
Boost up to 5.5 GHz
24 Cores / 32 Threads
36MB of Cache
Operating system
Windows 11 Home
Display
18″ QHD+ 240Hz
16:10 (2560 x 1600)
Graphics
NVIDIA GeForce RTX 4090 (16GB)
Storage
1TB + 1TB PCIe 4.0 NVMe M.2 SSD
Memory
32 GB DDR5-5600MHz
Keyboard
Per-key RGB powered by Razer Chroma
N-Key rollover
Connectivity
Wi-Fi 6E AX211
Bluetooth 5.3
Touchpad
Precision glass
Ports
3x USB-A 3.2 Gen 2
1x Thunderbolt 4 USB-C 3.2 Gen 2
1x USB-C 3.2 Gen 2
RJ45 2.5Gb Ethernet
HDMI 2.1
UHS-II SD card reader
Audio
3.5mm headphone/microphone port
Built-in array microphone
THX spatial audio
7.1 codec support via HDMI
Weight
3.10kg / 6.8lbs
Battery
Built-in 91.7Whr lithium-ion polymer
330W GaN power adapter
Blade 18: Design and build quality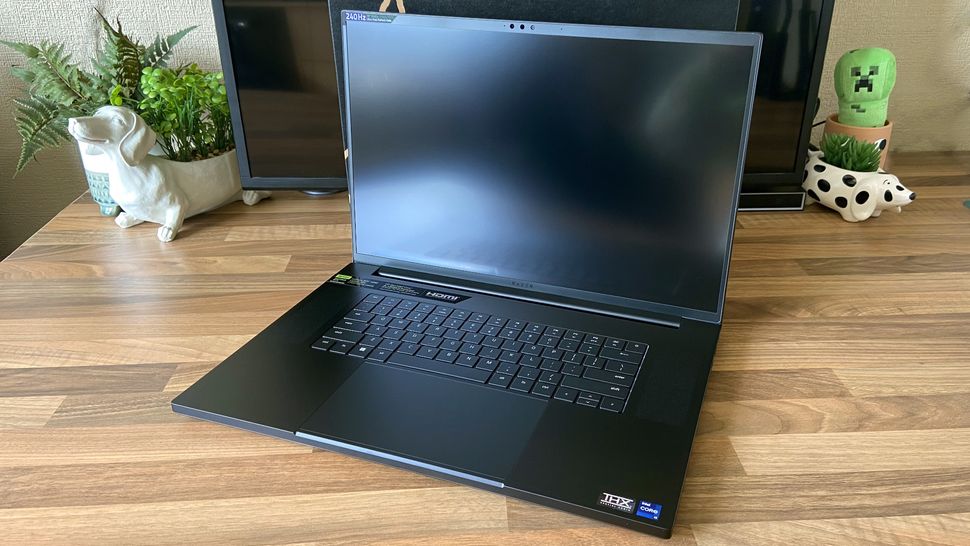 For such a high-end laptop, it's refreshing to see Razer carry its subtle design philosophy over to this latest Blade variant. There are dead giveaways besides the prominent three-headed serpent, like the brand's favorite font used for the built-in RGB keyboard. You won't fool anyone into thinking this is a boring productivity machine, but the Blade 18 could look sleek and understated if you removed the extra brand stickers.
The iconic green logo illuminates from the top panel, one of those classic Razer RGB elements you'll never see yourself, but I can't deny it looks fantastic. If you notice the Blade 18's weight in the specifications, you'll understand why it's easy to open the lid with a single finger (or thumb, it's heavy.) Coming in at just over 3kg, there's enough heft to keep this beast planted on your desk while you open it up and see precisely how gigantic it is.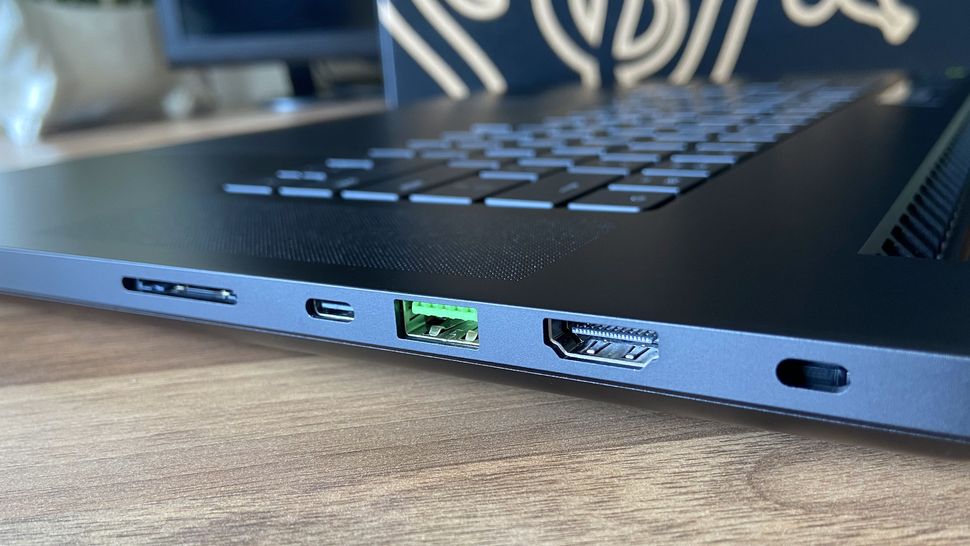 Examining the ports brings relief as all three USB-A ports are 3.2 Gen 2, saving the need to look up any documentation when connecting external storage to the fastest port. Gaming laptops I've previously owned came with a permanent mental note to remember which USB port I needed for a mouse dongle and which alternative offered any actual speed — a big win for Razer, who still color their ports a quirky bright green.
The only real standout difference for the I/O is that while there are 2x USB-C ports, only one supports Thunderbolt 4 power delivery for an alternative 20V charging source up to 100W. Both still support dGPU DisplayPort 1.4 video output, so genuine functionality is hardly nerfed by this minor distinction. An HDMI 2.1 port offers the most straightforward method for connecting an external screen, which is nice for those with ancient monitors lacking modern luxuries, like me.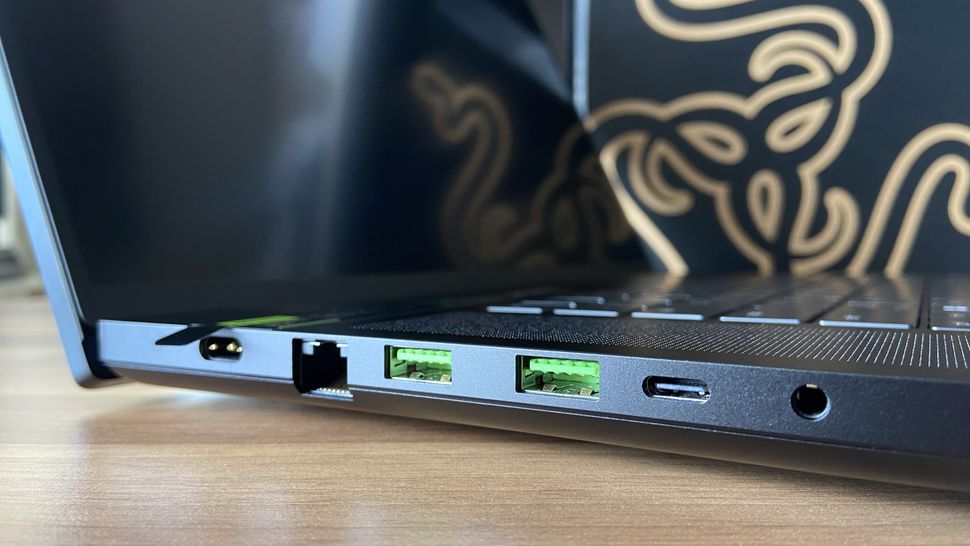 Pointing out an RJ45 Ethernet port might seem silly on such a chunky gaming laptop, but it's notable on the Blade 18 for supporting 2.5Gb speeds. Plenty of skinnier models do away with LAN options, so connecting directly to my router for the fastest game downloads is something to appreciate. Especially when all the games I wanted to test on this beast were gigantic, usually breaking above 100GB installations. Multi-Gig networking makes sense — another thoughtful inclusion from Razer.
The only negative point I could find for the design is Razer's claims of an anti-fingerprint coating on the Blade 18. They claim it picks up 'less smudges' with this addition, so I dread what it would look like without it. Snapping pristine photographs of a high-end device like this is usually my priority, but I'd barely taken this thing out of the box to discover it was a fingerprint magnet. At least the local authorities could quickly identify your Blade if it were stolen.
Blade 18: Display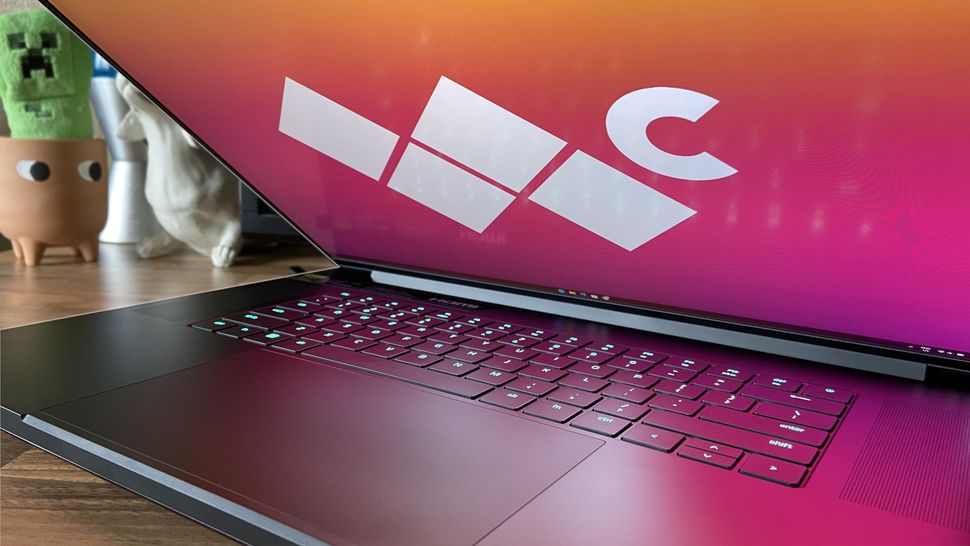 The 240Hz panel is a standout feature on the Blade 18, backing up Razer's most powerful laptop. Its default QHD+ resolution is 2560×1600 on Windows 11 with a 125% desktop scale over the 16:10 screen, and everything looks crisp. Since you get an RTX 40-series mobile GPU with any variant, NVIDIA G-Sync prevents screen tearing during gaming, no matter which refresh rate you choose.
Razer includes a simple toggle to automatically switch to 60Hz when using the Blade 18 on the battery to help extend its portable life. You can use Windows to modify the display settings further, but quick access to standard refresh rates can be helpful when targeting particular games or media.
Switching to NVIDIA Studio drivers is encouraged if you want to use RTX features in creative apps, but the process still isn't streamlined enough to feel worth it on a gaming laptop. It's no fault of Razer, and it's nice to have the option, but NVIDIA still needs to work on a more straightforward switch between its driver types. With that in mind, the Blade 18 can handle intense rendering tasks, so if you're planning a break from games to focus on a creative project, it's got your back.
Swipe to scroll horizontally
| Setting | Brightness | Black | Contrast | White Point |
| --- | --- | --- | --- | --- |
| 0% | 31.1 | 0.02 | 1350:1 | 6000 |
| 25% | 129.4 | 0.12 | 1070:1 | 6100 |
| 50% | 194.3 | 0.17 | 1170:1 | 6200 |
| 75% | 398.4 | 0.33 | 1190:1 | 6300 |
| 100% | 619.5 | 0.53 | 1180:1 | 6400 |
Razer claims the Blade 18 supports 100% of the DCI-P3 color gamut, although, in my benchmark tests using a colorimeter, it would max out at 99%. Still, one percent is hardly anything to complain about, and the default calibration profile is vibrant, with nothing looking unusual. A 3ms response time isn't as low as some competitors at 1ms, but I doubt anyone could notice. Anything below 5ms is fine for gaming, so I have no complaints.
The range of brightness is admirable, too. Pulling the slider down to 0% keeps it easy on the eyes for early-morning or late-night gaming, but I can't imagine I'd ever take the Blade 18 with me to bed unless it was a bitter winter night and I needed a lap-sized space heater. At the top end, the contrast ratio remains strong, but it's only valuable for natural daylight to combat glare. I kept the screen at 50%, which was comfortable enough with a slightly better battery life bonus.
Blade 18: Battery life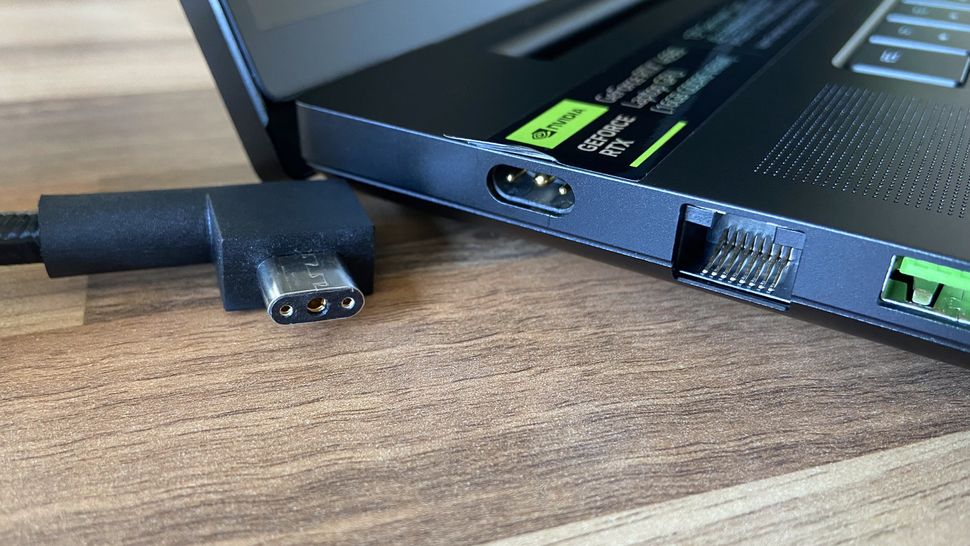 Defending the battery life of a gaming laptop feels a little fruitless. Most gamers understand that the components inside these portable machines aren't exactly known for being economical, so anything over a couple of hours is something to marvel over. In fairness, the Blade 18 survived a healthy 4hr 51min during my PCMark 10 battery rundown test under the modern office setting, but this isn't an office laptop.
Razer claims the Blade 18 can manage 'over 5 hours' on battery power, which seems legitimate based on my experience. However, the battery isn't user-replaceable, so this number will inevitably drop over time. If you're willing to drop the refresh rate from 240Hz to 60Hz and enable various power options within Windows 11 and the Razer Synapse companion app, you could use it as a productivity machine on a lengthy journey.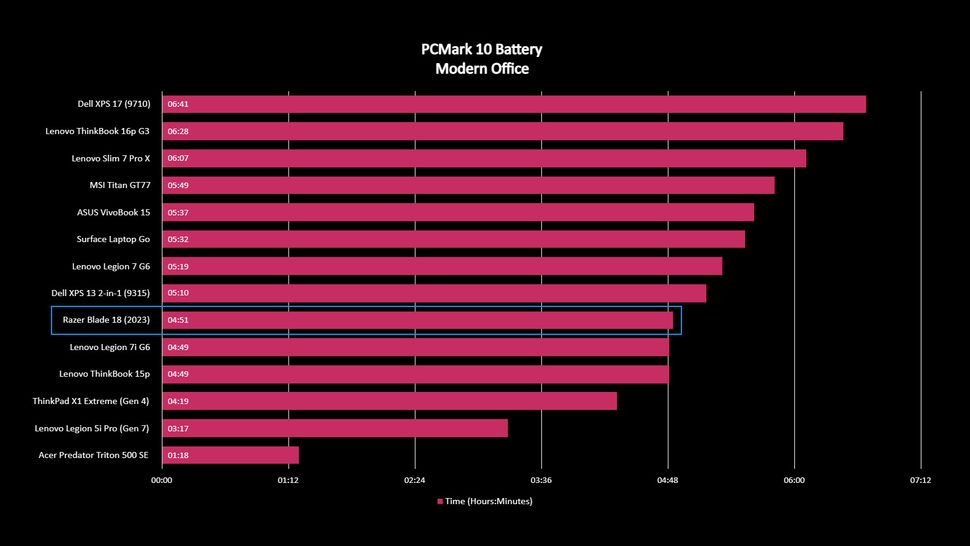 Forcing the NVIDIA GeForce RTX 4090 mobile GPU as the default option, the Blade 18 scored a much more realistic 1hr 5min in PCMark 10's gaming battery test. Considering this benchmark is a neverending stress test from 100% to 0%, a little over an hour isn't too bad for a laptop packed with some of the beefiest components available. If I were planning a long journey without AC power access, I'd probably take my Steam Deck (opens in new tab) for a little more juice, but the Blade could survive between charges.
My home office happily maintains a 68°F ambient temperature with around 45% humidity, and the Blade 18 was tested exclusively in this environment. Any changes to warmth and pressure during travel could affect battery longevity, but if you're happy to travel with the chunky power brick and your transport has free access to AC sockets, you'll be fine. This Intel and NVIDIA combo relies on extra energy, so you'll never see the same performance during portable gaming.
Blade 18: Gaming and performance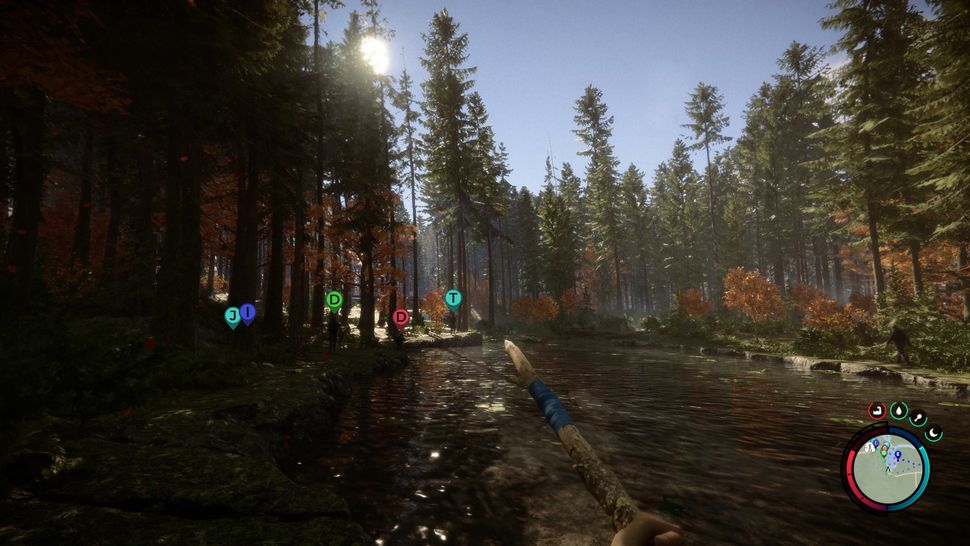 I doubt anyone would be surprised to hear that an RTX 4090 mobile GPU effortlessly handles practically any modern game you throw at it; that seems pretty obvious. Combined with the 13th Gen Intel Core i9-13950HX CPU packed with a ridiculous 24 cores and 32 threads, none of my notoriously demanding games had any issues maintaining at least 60 FPS. Although the Blade 18 sports a lovely 240Hz panel, you can still hit around half that with most titles pumped to ultra graphics presets.
Drop in-game graphics a little lower, and you can start to creep closer to the maximum refresh rate, especially if you lean on NVIDIA's DLSS tech to drop the internal rendering resolution and forfeit some other luxuries related to ray tracing. Unsurprisingly, this second-best variant of the Blade 18 crushed our usual benchmarking tests, with Geekbench 5 edging ahead of an MSI Titan GT77 sporting the same CPU. Razer's vapor chamber cooling undoubtedly helped push for those few extra points.
Geekbench 6 is the new standard, but our collection of graphs looks a little skinny right now, so it wasn't worth comparing against the modest hardware we've tested. Still, the Blade 18 scored 16,898 with the i9-13950HX and will likely remain king of the hill for the latest version of benchmarking royalty. Storage tests via CrystalDiskMark show this dual 1TB SSD setup sits alongside similarly high-end machines like the ASUS ZenBook Pro 14 Duo OLED, except here, we can harness it for reduced loading times during gaming.
3DMark Time Spy shows the mobile RTX 4090 soaring above the 30-series cards from the previous generation. Again, not a surprise, but the sheer increase in raw performance over desktop GPUs makes me smile. The Blade 18 is a gaming powerhouse leaving NVIDIA's older cards in the dust. If you're a fan of numbers and spreadsheets like me, you'll get a kick out of watching this Razer CPU/GPU combo burn through benchmarks without breaking a sweat besides kicking the fans into high gear. My noise-canceling headphones remedied that, anyway.
The only downside to gaming on the Blade 18 is switching to battery power, throttling the performance of the internals, which generally cuts framerates by more than half. It's not completely devastating, and you can still run Cyberpunk 2077 at around 30 FPS with some adjustments to the graphical settings, but you won't break above 40. Disabling battery boost in NVIDIA GeForce Experience and enabling best performance mode in Windows 11 power settings can net you minor improvements, but it's considerable nerf overall.
Let's not forget that the mobile RTX 4090 GPU pulls up to 175W TGP, and the Intel i9-13950HX can hit 190W when aided by overclocking tools like Razer's Synapse companion app. This kind of power draw would be pointless on the battery, draining its life in minutes, so you can't expect desktop-class performance without a suitable power source to back it up.
I couldn't bear to have the Blade 18 on my lap for gaming anyway, so I doubt many others would want it cooking their legs as they tour around Los Santos in Grand Theft Auto V. Stick to a desk with AC power for intense gaming. Casual titles are fine for travel, but the previously-mentioned battery benchmark proves you won't get much longer than an hour, so keep the power brick handy.
Blade 18: Keyboard and touchpad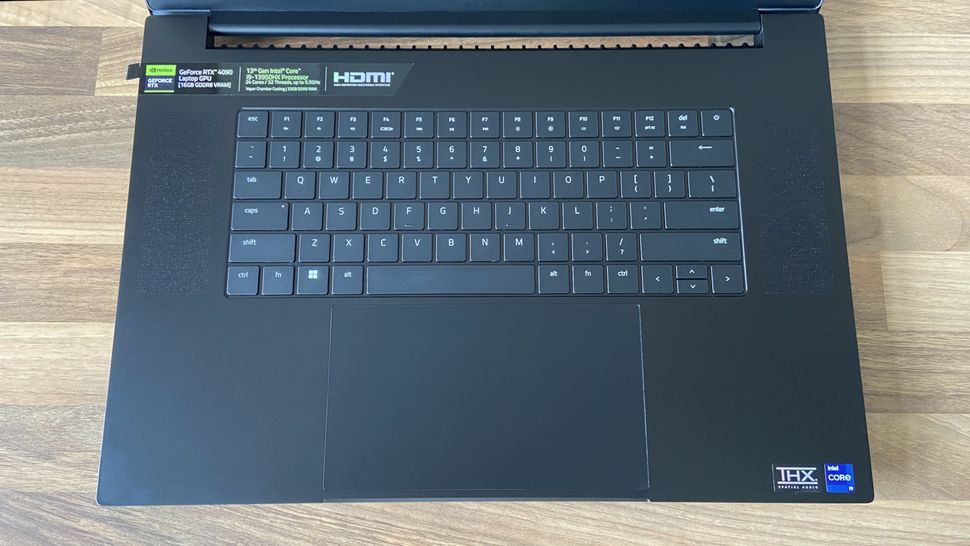 The keyboard is probably the most underwhelming part of the Blade 18, doing nothing special outside of displaying the standard Chroma RGB backlighting found on most products in its range. There's nothing inherently wrong with it, and typing feels fine once you adjust to the unusually squashed arrow keys and bizarre power button between backspace and delete. Don't accidentally hit that.
Holding the function key at least highlights the F keys exclusively, making it much easier to see brightness controls when playing in the dark. Using the Razer companion apps to customize the RGB is still as fun as ever, especially with reactive lighting, but there's nothing revolutionary here. The Blade 18 has decent keys, but fans of WASD controls might find the shallow travel distance a little disappointing.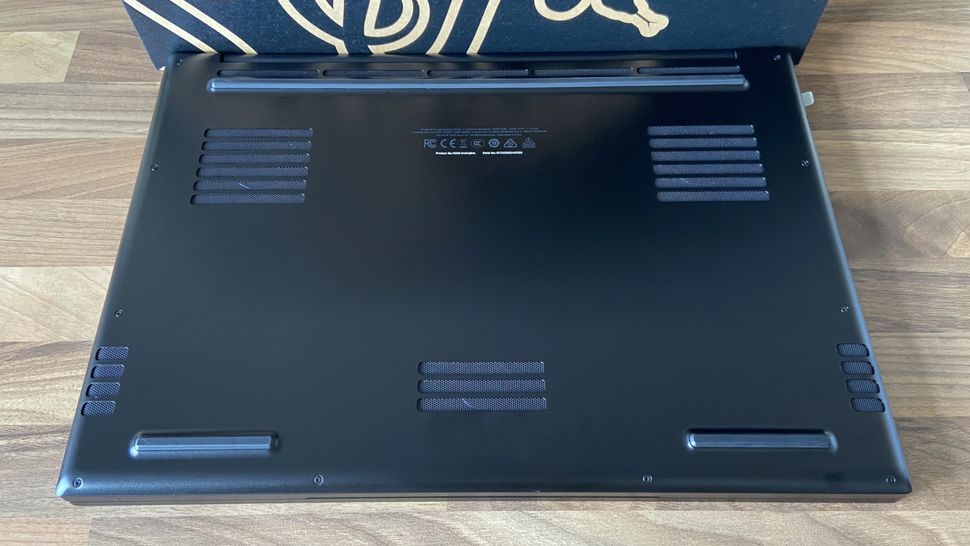 On the other hand, the XL glass touchpad is beautifully smooth and supports Microsoft Precision Touch, meaning you can access all the gesture inputs available on Windows 11. Since I found the Blade 18 performed far better on AC power than the battery, I'd prefer to keep an external mouse connected, perhaps even with a compatible 240Hz external monitor, but that's getting away from the point of a gaming laptop.
If you can at least travel with a dedicated mouse like the DeathAdder V3 Pro (opens in new tab), the keyboard is serviceable for playing any game, falling short of perhaps the expectations of only competitive gamers. I usually take a wireless controller if I'm traveling with a laptop intended for long-haul gaming anyway because contorting your hands around the gigantic Blade 18 on a tiny airplane tray table would suck.
Blade 18: Speakers and camera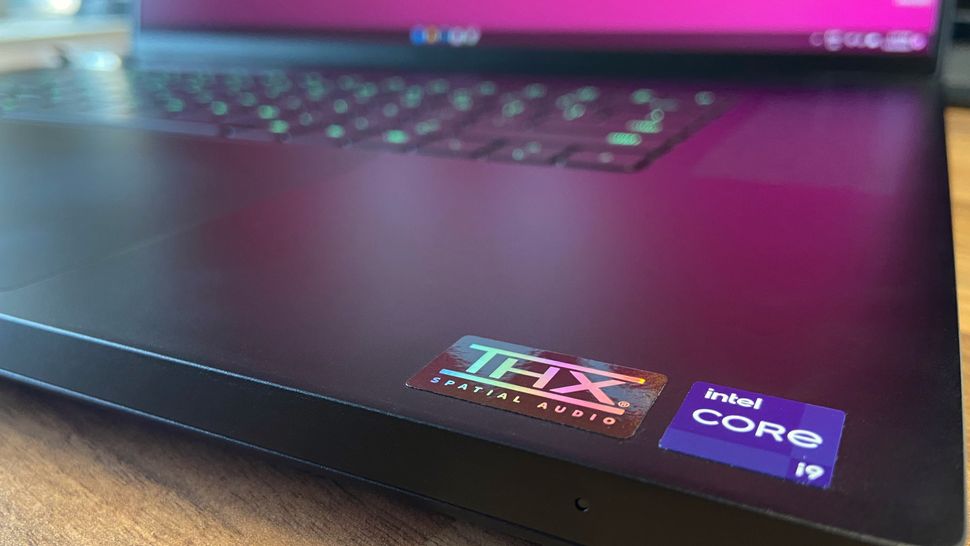 The Blade 18 sports its spatial audio support prominently, as with most modern Razer hardware. It should be no surprise to anyone who knows that Razer bought the audio giant THX in 2016, but it's still relevant here, backing up the 6x speakers dotted around the laptop. It's easier to understand why the keyboard looks squashed when you notice it's sandwiched between a stereo speaker setup, and they sound decent for music listening and gaming.
Four extra speakers help with the pseudo-surround effects, but I doubt many gamers would rely on them for a lengthy play session. The Blade 18 drowns out the speakers with blaring fan noise if you're playing intense titles, and I'd imagine anyone picking an RTX 4090 is planning to do precisely that. Stick to using the speakers to watch light entertainment, like the Windows Central Podcast (opens in new tab), and switch to headphones for gaming. Trust me.
Compared to most laptops designed for productivity and working from home, the Blade 18 surprised me with a particularly impressive internal microphone. It's no studio-grade unit by any means, but pair it with the wide-angle 5MP webcam, and you could film a range of creative video content or join conferences without apologizing for your hardware.
Of particular note is the apparent automatic noise reduction, active whether or not you opt to use the NVIDIA Broadcast app to enhance your audio and video. While recording samples, any traces of the multiple fans whirring out of the vapor cooling chamber were eliminated. It's good enough for moderate use, but live-streaming gameplay directly from the Blade 18 would likely need an external microphone solution.
Blade 18: The competition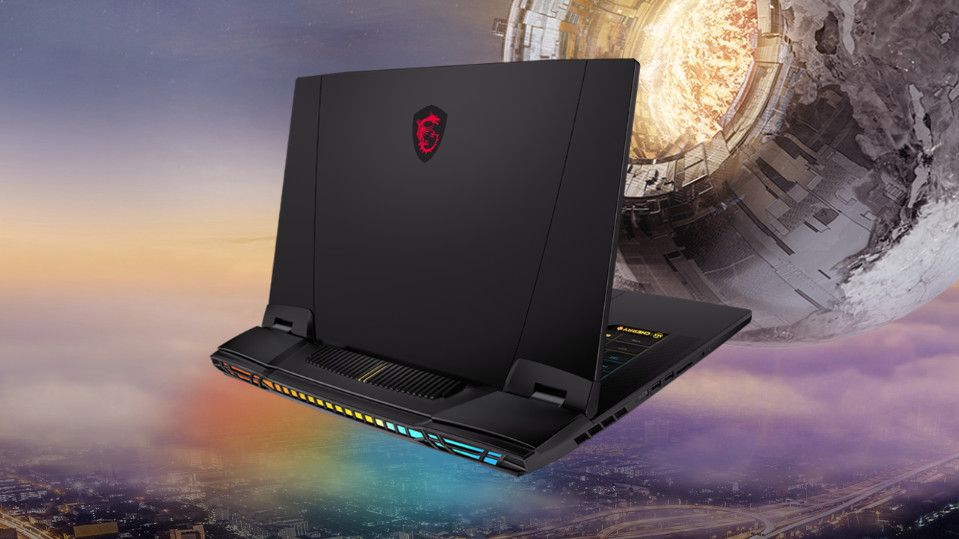 We're seeing 18″ gaming laptops becoming the new hotness in 2023, and the Razer Blade 18 is a fine example of why the chunky form factor still has potential as a just-barely portable solution to high-end gaming. The 13th Gen Intel Core processors and NVIDIA GeForce RTX 40-series mobile GPUs are still relatively new, so there aren't many vendors offering a strong competitor. Still, MSI has a potential rival in the latest revision of its Titan GT77 appearing on some of my benchmarks.
The Titan GT77 HX 13V sells for around $4,300 and sports the Intel i9-13980HX to step slightly ahead of the Blade 18, though the RTX 4090 matches its GPU. Storage and memory options are similar enough, with a dual M.2 SSD setup alongside a potential for up to 128GB of DDR5 RAM. MSI offers a drop in refresh rate to 144Hz in favor of a Mini-LED panel, or you can stick with an IPS option for 240Hz. Multi-Gig Ethernet remains, but you gain a fancy SteelSeries mechanical laptop keyboard with Cherry switches. Nice.
No matter the comparable hardware, unfortunately, nothing excuses the ugly design of the GT77. It screams over-the-top gamer aesthetics with a sci-fi shell rammed to the gills with RGB lighting and a bizarre overall shape. If you're dead-set on exclusively sticking to games and rarely plan to be seen in public, MSI packs a close competitor to the Blade 18, but it simply can't match the sleek design. I'd take the Razer machine with me on travels a hundred times before something that looked like it broke off a spaceship from Mass Effect.
Blade 18: Should you buy it?
You should buy this if …
You want the highest-performing gaming hardware in a portable form factor.
Most of your gaming is done at home with available AC power.
You prefer larger screens with smooth refresh rates.
You shouldn't buy this if …
You want a lightweight machine that's easy to transport.
You need to maintain a quiet environment when gaming.
You primarily play games while traveling, relying on battery power.
The Razer Blade 18 is the best gaming laptop I've ever used. Packing premium components into a sleek design that doesn't scream 'look at me, I'm a gamer' expands its usefulness to intense creative tasks like editing your epic highlight videos. It's undoubtedly a stationary gaming machine first, though. AC power is critical if you want to push this laptop to its limits, and you'll hear the fans kicking into high gear.
Playing in a quiet environment is out of the question, whether you're blasting the THX-powered speakers or blowing a miniature hurricane out of the vapor cooling chamber. Playing on the battery can still handle high-end games, but not much higher than 30-40 FPS with its components throttled. Still, the Razer Blade 18 has desktop-grade hardware capable of extreme gaming performance if you can provide the necessary juice.