Nvidia and Intel announced their next-generation GeForce RTX 40 laptop GPUs and Raptor Lake mobile CPUs earlier this year at CES 2022. The first round of gaming laptops using this new hardware are just starting to arrive, with Gigabyte outfitting the Aorus 15X with a blazing-fast Intel Core i9-13900HX processor and a new GeForce RTX 4070 mobile GPU.
It's been two years since we've seen a significant generational shift in mobile GPUs from Nvidia, so it's  interesting to see how performance stacks up with the GeForce RTX 4070 compared to the preceding GeForce RTX 3070 and RTX 3070 Ti. The new CPU and GPU are wrapped in a handsome 15.6-inch chassis with a 240 Hz QHD display, a full-size RGB keyboard with a number pad and a large glass touchpad. There are a lot of entries vying for inclusion in our best gaming laptops list, but the Aorus 15X can't get there, because its gaming performance leaves much to be desired.
Design of the Gigabyte Aorus 15X
The chassis of the Gigabyte Aorus 15X features a mixture of materials. The lid and bottom chassis are constructed of CNC-milled metals, while the keyboard deck is made from plastic. Nestled below the keyboard is a relatively large glass touchpad that is smooth to the touch and features an embedded Aorus logo. The 15X measures 14.1 x 10.8 x 0.78 inches (W x D x H), and weighs 5.73 pounds.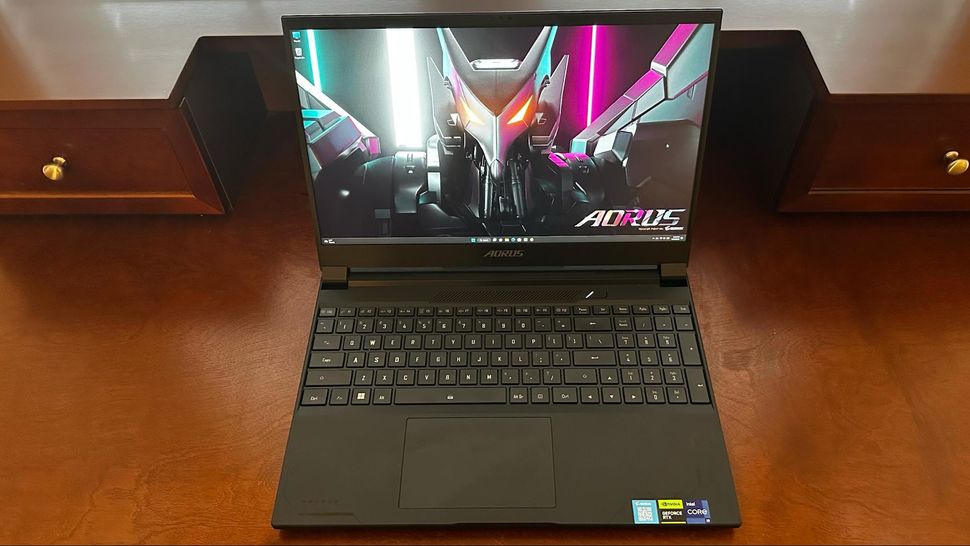 The anti-reflective, 15.6-inch display has thin bezels that measure just 0.19 inches on the sides and increase to 0.43 inches at the top (to accommodate the 1080p webcam). However, the bottom bezel is much more prominent, measuring 1 inch.
Gigabyte has infused the Aorus 15X with two USB 3.2 Gen 2 (Type-A) ports, one Thunderbolt 4 port, one HDMI 2.1 port, one Mini DisplayPort 1.4 port, 2.5 GbE and a combo audio jack. You'll find Wi-Fi 6E and Bluetooth 5.2 radios for your wireless needs. Dual 2-watt speakers with DTS:X Ultra Audio Technology are mounted above the keyboard. It would have been nice to see two Thunderbolt 4 ports on a chassis this size, but that's just me being nitpicky.
We can't talk about an Aorus gaming laptop without mentioning RGB lighting, and the Aorus 15X has plenty to go around. Not only is there per-key lighting controlled via the Gigabyte Control Center, but there's also a small RGB strip above the Aorus logo on the back spine of the laptop. This strip can be configured independently of the keyboard. Gigabyte's use of RGB on the Aorus 15X is tasteful without going completely overboard like some other OEMs do on their laptops.
Gigabyte Aorus 15X Specifications
Swipe to scroll horizontally
| | |
| --- | --- |
| CPU | Intel Core i9-13900HX |
| Graphics | Nvidia GeForce RTX 4070 (8GB GDDR6, 140W max graphics power, 2,175 MHz boost clock) |
| Memory | 16GB LPDDR5-5600 |
| Storage | 1TB PCIe NVMe M.2 SSD |
| Display | 15.6-inch, QHD (2560 x 1440), 240 Hz, Anti-Reflective |
| Networking | Intel Wi-Fi 6E AX211 + Bluetooth 5.2, Realtek Gaming 2.5 GbE |
| Ports | 2x USB 3.2 Gen2 (Type-A), 1x Thunderbolt 4, 1x HDMI 2.1, 1x Mini DP 1.4, 1x 2.5 GbE, 1x Combo Audio Jack |
| Camera | 1080p |
| Battery | 99 Whr |
| Power Adapter | 240 W |
| Operating System | Windows 11 Pro |
| Dimensions (WxDxH) | 14.1 x 10.8 x 0.78 inches (358.14 x 274.32 x 19.81 mm) |
| Weight | 5.79 pounds (2.63 kg) |
| Price (as configured) | $2,099 |
Gaming Performance the Gigabyte Aorus 15X
Our Gigabyte Aorus 15X review unit is equipped with an Intel Core i9-13900HX processor and an Nvidia GeForce RTX 4070 GPU. This is the first time we've tested this combination in our benchmark suite, so we didn't know what to expect going in. Gigabyte also includes 16GB of DDR5-5600 memory (two 8GB modules, 64GB maximum supported), and a 1TB PCIe 4.0 SSD handles storage duties.
To see how the Aorus 15X performs relative to the competition, we compared it to our results from the Asus ROG Strix Scar 18 (Core i9-13980HX, RTX 4090, 1600p), Lenovo Legion 5i Pro (Core i7-12700H, RTX 3070 Ti, 1600p) and the Alienware x15 R2 (Core i7-12700H, RTX 3070 Ti, 1440p).
The frame rates we got from the Aorus 15X were disappointing, to say the least. We don't know if there's excessive throttling with the GPU in this laptop chassis, but we didn't see the big generational performance jumps that we were expecting compared to existing GeForce RTX 3070 Ti laptops. We ran our benchmarks with the latest Nvidia Game Ready drivers and even tried the current Studio drivers. The performance difference between the two driver packages was negligible.
Starting with Shadow of the Tomb Raider, the Aorus 15X merely matched the Legion 5i Pro with its GeForce RTX 3070 Ti, scoring 110 fps at 1080p resolution. Interestingly, the Aorus 15X hit 70 fps at 1440p, while the Legion 5i Pro hit 69 fps at 1600p. The ROG Strix Scar 18, with its GeForce RTX 4090, truly showed next-generation performance levels, delivering 181 fps at 1080p and 124 fps at 1600p. As we'll see in most of the gaming benchmarks, the Alienware x15 R2 brought up the rear of this group at 84 fps and 56 fps at 1080p and 1440p resolutions, respectively.
Moving over to our Grand Theft Auto V benchmark, things took a decidedly downward turn for the Aorus 15X, as it wound up in last place among our group (93 fps at 1080p, 56 fps at 1440p). The Alienware x15 R2 slipped into third place, hitting 110 fps at 1080p resolution, while the Legion 5i Pro took second with 131 fps. Not surprisingly, the ROG Strix Scar 18 took top honors, hitting 152 fps at 1080p and an equally impressive 132 fps at 1600p.
The Red Dead Redemption 2 benchmark again saw the Legion 5i Pro with its GeForce RTX 3070 Ti outgunning the GeForce RTX 4070 in the Aorus 15X. The former musted 70 fps at 1080p and 45 fps at 1440p, while the latter registered 81 fps and 53 fps, respectively. The ROG Strix Scar 18 again took the top prize (123 fps at 1080p, 85 fps at 1600p), while the Alienware x15 R2 again pulled up the rear.
The Aorus 15X and Alienware x15 R2 tied for last place in Far Cry 6, with each producing roughly 75 fps at 1080p and around 67 fps at 1440p. The Legion 5i Pro stepped firmly into second place (88 fps/70 fps), while the ROG Strix Scar 18 simply ran away from the competition.
Finally, the Aorus 15X (98 fps at 1080p, 67 fps at 1440p) was evenly matched with the Legion 5i Pro in Borderlands 3, which was good enough for second place behind the overachieving ROG Strix Scar 18. Like clockwork, the Alienware x15 R2 was outgunned in this competition with 82 fps at 1080p and 57 fps at 1440p.
When I wasn't benchmarking, I played a few rounds of Overwatch 2 and had buttery smooth performance exceeding 220 fps (2560 x 1440 resolution with Ultra quality settings). Cranking the graphics quality to Epic saw performance drop to around 170 fps.
Productivity Performance on the Gigabyte Aorus 15X
Intel's new Core i9-13900HX processor powers our review configuration of the Gigabyte Aorus 15X. This Raptor Lake processor has 8 performance cores and 16 efficiency cores capable of executing 32 threads. The Core i9-13900HX has a base clock of 2.2GHz, a maximum single-core boost of 5.4GHz and a maximum all-core boost of 4.9GHz. Gigabyte pairs this beefy processor with 16GB of DDR5-5600 memory via two 8GB SO-DIMMs.
Kicking things off with the Geekbench 5.5 synthetic benchmark, the Aorus 15X put up a strong showing with a single-core score of 2,007 and a multi-core score of 18,129. Not surprisingly, these numbers far outpaced the Alienware x15 R2 (1,751/13,749) and the Lenovo Legion 5i Pro (1,595/13,008). The only thing standing in the Aorus 15X's way was the mighty Asus ROG Strix Scar 18 with its Core i9-13980HX, which scored 2,066 in the single-core benchmark and 19,233 in the multi-core benchmark.
Our file transfer benchmark copies 25GB of files using the onboard SSD. Again, the Aorus 15X came in second place with a measured 1,721.37 MBps versus the first-place ROG Strix Scar 18 at 1,885.81 MBps. The Alienware x15 R2 came in third place with 1,353.66 MBps, while the Legion 5i Pro was in last place at a lowly 925.46 MBps.
The ROG Strix Scar 18 chalked up another win in our Handbrake video transcoding benchmark, converting a 4K video to 1080p in a scant 2:49. The Legion 5i Pro slipped into second place at 4:29, while the Aorus 15X had to settle for third place at 5:03. The Alienware x15 R2 brought up the rear at 5:23.
Display on the Gigabyte Aorus 15X
The Gigabyte Aorus 15X uses a 15.6-inch IPS panel with an anti-reflective coating applied. The resolution is 2560 x 1440 (QHD) and the panel sports a heady 240Hz refresh rate.
The Gigabyte Aorus 15X display covers 106 percent of the sRGB color space, putting it in the same ballpark as the competitors in this field. Likewise, its 75.2 percent coverage of the DCI-P3 color space, while the lowest among this group, isn't too far off from the Alienware x15 R2 and Asus ROG Strix Scar 18. However, overall brightness was an obvious pain point, coming in at 277 nits compared to 402 nits for the ROG Strix Scar 18 and an impressive 474 nits for the Legion 5i Pro.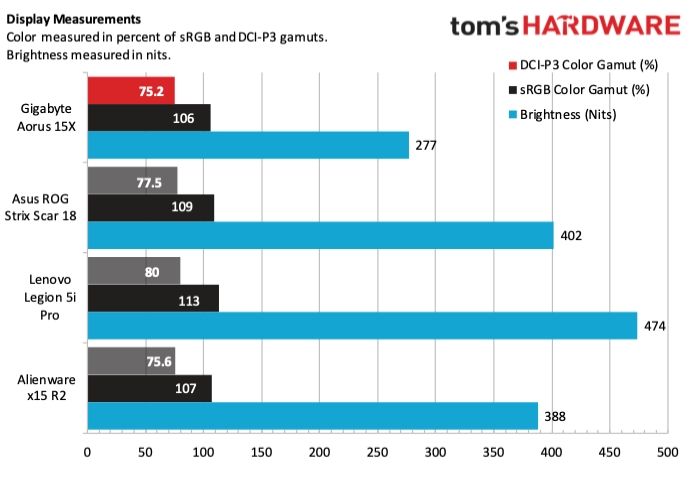 Although the brightness number was lacking compared to the competition, the display was more than up to the task in my home office environment while playing games like Overwatch 2 and Red Dead Redemption 2. Colors were vibrant, especially in Overwatch 2, which trends more to the cartoony side than ultra-realism regarding graphics. These colors were especially effervescent in the Paraiso, Rio de Janeiro map, with its pastel buildings and beach umbrellas that dot the sand.
It was a similar story when I watched videos and saw excellent color representation in the most recent trailer for Guardians of the Galaxy Volume 3. For example, the colors of the space suits as the team bounced weightlessly popped against the background. Black levels on the IPS panel also looked excellent, although they obviously can't compare to the best OLED and Mini-LED panels.
Keyboard and Touchpad on the Gigabyte Aorus 15X
Gigabyte includes a full-size keyboard with the Aorus 15X, complete with a number pad. The keys have 2.0mm of travel (with more of a mush bounce-back instead of a clicky feel). Gigabyte's RGB Fusion is in play here, with per-key color configuration and macro functions (configurable using the Gigabyte Control Center). Or you can choose from 12 preset lighting effects if you don't want to design your own custom scheme.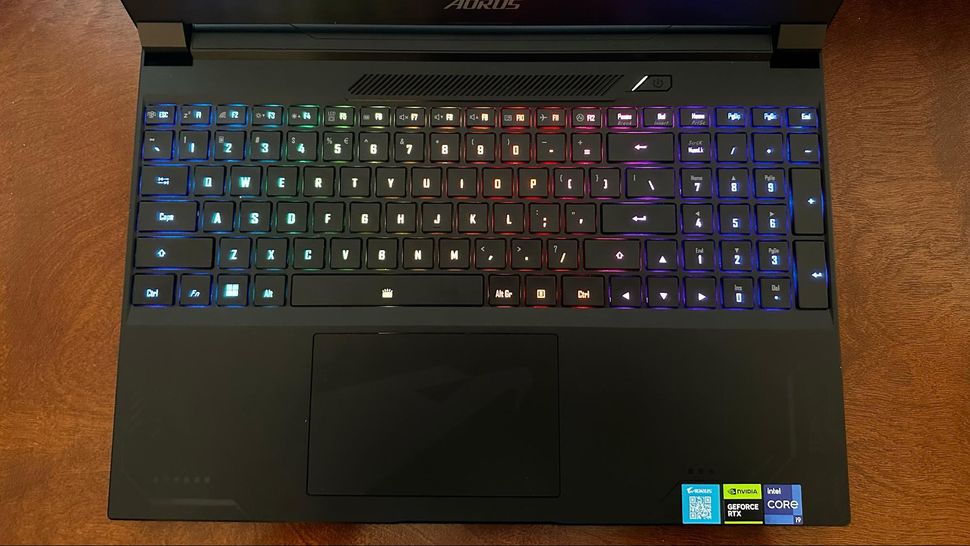 My go-to choice for testing my typing speed on a new keyboard is keyhero.com. I'm not an incredibly fast or accurate typist, but I couldn't get accustomed to the keyboard. The layout isn't out of the ordinary by any means, but the keys weren't as responsive as I'm used to, leaving me with 59.29 words per minute and an accuracy of just 87.13 percent. For comparison, on the smaller HP Dragonfly Elite Folio G3, I hit 85 words per minute with 96 percent accuracy. I hit 96.5 words per minute on the Alienware m15 R7's keyboard with 92.25 percent accuracy. Maybe it's you, Aorus 15X, not me. Your mileage may vary with the Aorus 15X keyboard.
The large touchpad measures 4.75 x 3 inches and features a smooth glass surface. I found it easy to use, and I had no problems with my left palm feeling crowded on the keyboard deck. If you want to disable the touchpad quickly, you can do it with the Fn + F10 key combo.
Gigabyte Aorus 15X Webcam
Webcams took on an outsized importance during the rise of COVID-19 in 2020, and they remain a focal point in work-from-home life. Luckily, the Gigabyte Aorus 15X's 1080p webcam is up to the task of daily Google Meet / Zoom sessions.
Mounted front and center above the display, the Aorus 15X's camera has excellent color representation, accurately capturing my brown skin and unashamedly reflecting the light off my bald head for all to see. The camera even picked out details in my mustache, including the solitary grey hair stubbornly making its presence known on my lip. The webcam also had no trouble picking out details in the background, although many people will probably choose to blur the background or insert a more desirable scene to replace whatever's going on behind them in their home office.
Audio on the Gigabyte Aorus 15X
The Gigabyte Aorus 15X has two speakers mounted on either side of the battery, with grills on the bottom and sides of the chassis. No matter what games I played (i.e., Control, Overwatch 2, Red Dead Redemption 2, etc.), I was left wanting regarding audio quality. The speakers sounded hollow and lacked any depth. I expect more from a laptop that retails for over $2,000.
Bass-heavy tracks like 2Pac's "California Love" left me wanting. The thumping baseline is rendered lifeless, while 2Pac and Dr. Dre sound as if they recorded their vocals in a subway bathroom. Even the soaring vocals of Elton John's "Goodbye Yellow Brick Road" fell flat. The ballad is quite possibly one of Elton's greatest songs ever, yet something gets lost in translation when he hits the "ah, ah" highs at the end of each verse. The laptop comes with DTS:X software already installed, allowing you to adjust settings for games, movies, and music. I thought I'd surely be able to tweak the settings to improve the aural mediocrity being produced. 
Unfortunately, none of the settings did much to change the lack of depth and hollowness I heard while gaming or playing music, which is a shame.
Upgradeability of the Gigabyte Aorus 15X
The Gigabyte Aorus 15X has two DIMM slots and a single M.2 slot for a PCIe 4.0 SSD. In our case – and likely yours – these slots will come with memory and storage in them already which you can remove if you choose to upgrade in the future.
The bottom panel is accessible via 10 Torx screws. With the screws removed, I had to use a plastic trim removal tool to pry the panel off (it required quite a bit of force). In the image below, the SSD (Gigabyte AG470S1TB-SI B10) is situated at the top right of the battery. Directly to the left of the SSD are the two DDR5 SO-DIMM slots, which are covered with thin plastic shields.
Our review unit was configured with two 8GB DDR5-5600 SO-DIMMs. To the top left of the battery is the Intel Wi-Fi/Bluetooth combo card, and to the left of the battery is the empty slot for adding a second PCIe 4.0 SSD.
Battery Life on the Gigabyte Aorus 15X
The Gigabyte Aorus 15X has an integrated 99 Whr battery, allowing it to eke in under the FAA size limit for batteries permitted on commercial flights. The battery is recharged using a 240-watt power supply with a barrel-style connector for plugging into the back of the laptop.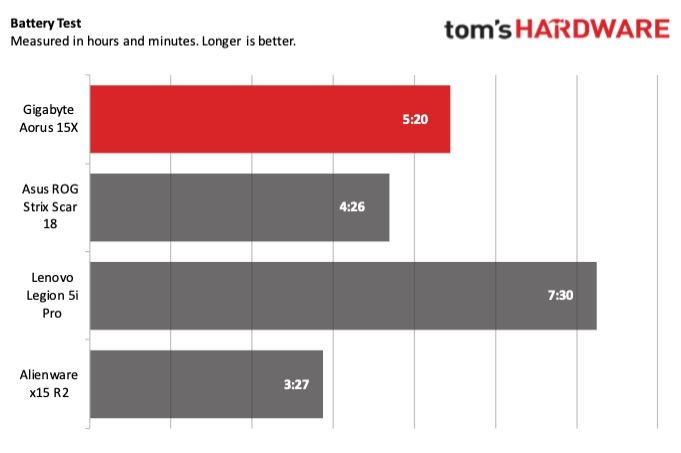 Our battery life test consists of web browsing, light graphics work and video streaming while connected to Wi-Fi with display brightness set at 150 nits. During this test, the Aorus 15X lasted for 5:20, putting it in second place behind the Lenovo Legion 5i Pro (7:30). It easily outpaced the more powerful Asus ROG Strix Scar 18 (4:26) and the Alienware x15 R2 (3:27).
Heat on the Gigabyte Aorus 15X
You need a stout cooling system to tame the Core i9-13900HX and GeForce RTX 4070 in the Gigabyte Aorus 15X. As a result, Gigabyte uses dual 102-blade fans and 220 cooling fins clustered around the four exhaust ports.
Couple that with five heat pipes for the CPU, GPU, and VRAM, and you have plenty of overhead for keeping things cool (which also still has us scratching our heads about the poor relative performance of the GeForce RTX 4070 in this system).
When I was performing run-of-the-mill productivity tasks in Windows 11 Pro, the fans were barely audible. However, once I started any game, the fans cranked into overdrive with a very audible "whooshing" sound to keep things cool.
We measured 24.22 degrees Celsius (75.6 degrees Fahrenheit) on the touchpad and 31.88 degrees C (89.4 degrees F) between the G and H keys during the Metro Exodus stress test. The hottest spot on the underside of the chassis was 48.11 degrees C (118.6 degrees F).
Software and Warranty on the Gigabyte Aorus 15X
The Gigabyte Aorus 15X comes loaded with several additional apps, most of which are useful. Gigabyte Dragon is a preinstalled network bandwidth optimization tool, while you'll find two separate utilities for the DTS audio system.
However, the third-party app that most will interface with will be the Gigabyte Control Center (GCC), which gives you control over various aspects of the Aorus 15X. You can monitor system vitals, fan speeds, and RGB Fusion for the keyboard. The GCC also monitors the Gigabyte-branded SSD in the laptop.
In addition to these Gigabyte-provided apps, there's also the usual assortment of bloatware that comes preinstalled with Windows 11 Pro, including Disney Plus, Spotify and TikTok, and WhatsApp.
The Aorus 15X comes with a 1-year manufacturer warranty.
Gigabyte Aorus 15X Configurations
There are two primary configurations for the Gigabyte Aorus 15X, starting at $1,849. The Aorus 15X AKF has a Core i7-13700HX or Core i9-13900HX CPU and a GeForce RTX 4060 GPU with 8GB GDDR6. Display options include 15.6-inch QHD (2560 x 1440) panels with a 165Hz or 240Hz refresh rate.
The Aorus 15X ASF is available with the same processor and display panel options but bumps the GPU to a GeForce RTX 4070 with 8GB GDDR6. Our configuration with a Core i9-13900HX, GeForce RTX 4070, 16GB DDR5-5600, 1TB SSD and 15.6-inch 240Hz display retails for $2,099.
Conclusion
The Gigabyte Aorus 15X is a confounding laptop. We were looking forward to testing the latest wave of laptops using Nvidia's new GeForce RTX 4070 GPU, but the numbers coming from the Aorus 15X were quite disappointing. The laptop had trouble pulling away from the Lenovo Legion 5i Pro, which uses a GeForce RTX 3070 Ti running at a slightly higher 2560 x 1600 resolution. This performance was repeatable across our entire gaming benchmark suite, with Nvidia GeForce Game Ready drivers and Studio drivers.
On the other hand, the Aorus 15X had a solid showing in our productivity tests, with the Intel Core i9-1300HX Raptor Lake processor slotting in just behind the Core i9-13980HX in the Asus ROG Strix Scar 18. The laptop also put up a strong showing in the 25GB file transfer test.
It seems like for every step forward; the laptop also took a step backward. While we were impressed with the overall build quality and design of the Aorus 15X, the keyboard lacked good tactile feedback. The display performed well in real-world testing despite its on-paper shortcoming with brightness, but the speakers are lackluster at best.
But the Aorus 15X is a gaming laptop, first and foremost, and it's the GeForce RTX 4070 that is the biggest letdown in this application. We hope this is a peculiarity shared only with our particular review sample and that future GeForce RTX 4070 laptops that we test down the line don't share a similar fate.
At $2,099, the Aorus 15X is a tough pill to swallow for any gamer.
MORE: How to Buy a Gaming Laptop
MORE: Best Gaming PCs
MORE: Best Ultrabooks and Premium Laptops