Alienware Refines The Aurora And Updates This Other-Worldly Gaming PC With Better Cooling, Intel 13th Gen And An RTX 4090
Alienware Aurora R15 Gaming Desktop: Starting At $1399, $4588 As Tested


The Alienware Aurora R15 is the culmination of both a thermal redesign and a silicon platform refresh, which results in excellent gaming performance.

Slick, Spacey Design And Aesthetics
Powerful PC Gaming Performance
Cool And Quiet Even Under Gaming Load
Intel 13th Gen Core Series Desktop Performance
NVIDIA GeForce RTX 4090 Is A PC Gaming Beast
Competitively Priced For A Prebuilt
Easily Serviceable, Mostly Tool-Less Design

Proprietary PSU And Motherboard
Limited DDR5-5200 Memory Speed
No Thunderbolt 4
Legacy Z690 Chipset Motherboard
Pricey As Tested
---
We would be remiss if we didn't acknowledge that Alienware's Aurora systems have been through their ups and downs in previous iterations, with noise and thermal performance weighing down what was otherwise a well-built, powerful PC Gaming desktop. However, with this latest version of the Alienware Aurora R15, Dell's gaming products group not only amped up the machine's thermal solution with a new, 2X larger 240mm heat exchanger, but also a total of five 120mm intake and exhaust fans. In addition, Dell has adopted Intel's 13th Gen Core series processors, with a Core i9-13900KF in our test rig, as well as NVIDIA's powerful GeForce RTX 40 series, in this case a burly GeForce RTX 4090 graphics card for tons of pixel pushing firepower.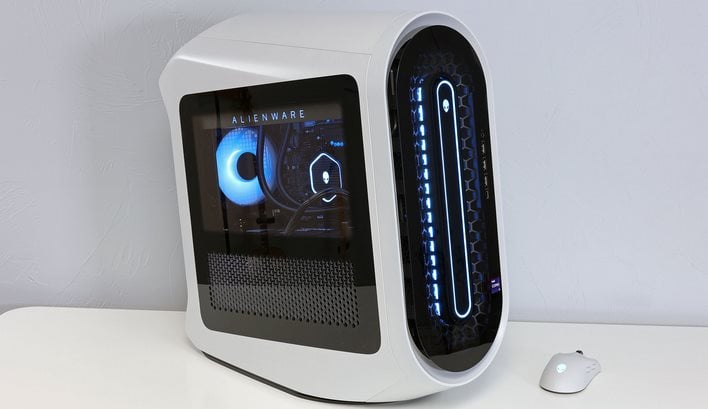 In fact, Alienware claims the Aurora R15 delivers up to 58% more power to the CPU with a 19% increase in airflow and a 5 degree C drop in temps, and much quieter operation under gaming and content creation workloads. You'll also note a perforated side panel, which contributes to said increase in airflow over the GPU specifically, as well.
All told, we're talking about a cooler, quieter and more powerful machine. Sounds like a win-win-win, right? Take a look at our quick hands-on video preview below, then we'll dig into the finer points of this new gaming desktop's design, configuration and build quality, as well a run around our benchmark test track of course…
Alienware Aurora R15 Features & Specifications
Other top-line spec standouts are a 2TB NVMe PCIe Gen 4 SSD, 32GB of DDR5-5200MHz RAM and a custom Intel Z690 chipset-based motherboard. Performance of the system could likely be improved some with
higher speed memory
. Intel's 13th Gen platform officially supports up to 5600MHz speeds, but Alienware needs to warranty the systems on a much larger scale versus boutique builders, for example, and high-speed DDR5 can be more temperamental than prior generations. Also on board is a custom, but beefy, 1350-Watt power supply feeding this beast and its GeForce RTX 4090 GPU.
Under The Hood: Alienware Aurora R15 Genetics And Design
Getting under the hood of this alien spacecraft is as easy as pulling a lever on the back side of the machine and releasing that perforated plexiglass side panel…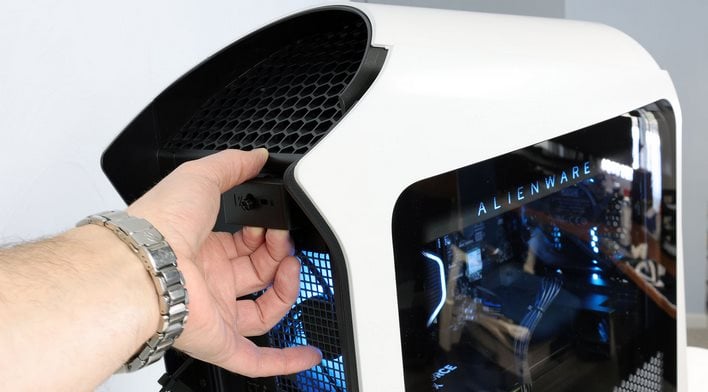 This is the Alienware Aurora in its Lunar Light color, which has a nice satin white finish that contrasts well against the black accents of the front and side panels, for a striking but still understated appearance. Again, this is a mostly tool-less design and removing the machine's side panel is as easy as pulling on the latch you see above.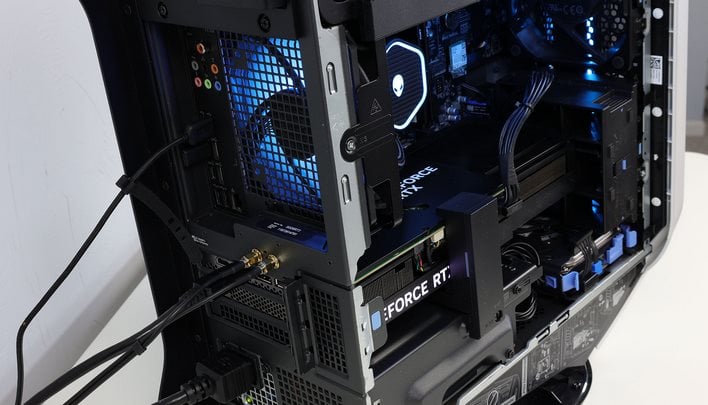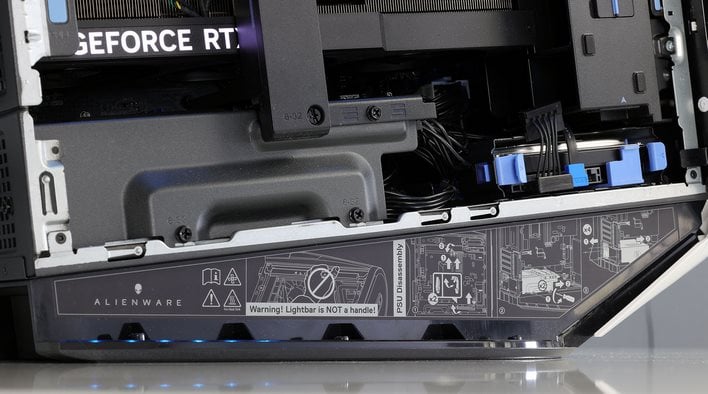 Once inside, we're treated to a well-organized layout that's much cleaner than previous gen models that relied on a swinging PSU cage to be pulled out of the way to get at the motherboard area and other primary components. The 1350-Watt custom Alienware PSU resides in the bottom of the chassis now in a more traditional configuration, though it is proprietary and not something you could service with a standard ATX power supply replacement.
Regardless, this is a minor quibble, since Alienware's new Platinum certified PSUs, which range from 750W to 1350W, are top-shelf components. Down here you can also see the 2.5-inch bulk storage HDD drive bay, though you can configure the system in a dual SSD setup as well, with its spare M.2 slot.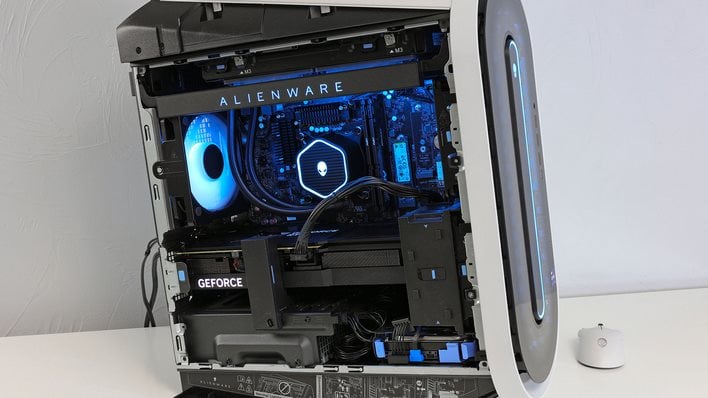 As you can see, the chassis configuration in general now is much more traditional, with enough area to accommodate the massive stance of a GeForce RTX 4090 GPU. That also has a 120mm fan and fan shroud directing cool air intake over the card itself. There's a cable guide that could use one more clip on it to keep the GPU power connector gathered a touch better, but you could easily tweak something in there yourself if you were in neat-freak mode.
A Tidier Chassis With A Markedly Stronger Cooling System
Dropping down a bit closer, we can see the new Alienware Aurora CPU cold plate and pump assembly, which of course is also adorned in sweet RGB lighting. This is a cleaner, more substantial water block versus some of the previous gen designs, with Dell's alien head logo glowing and looking out though the plexiglass.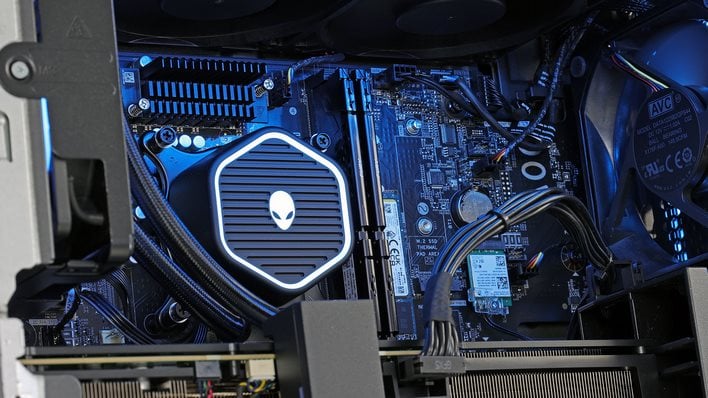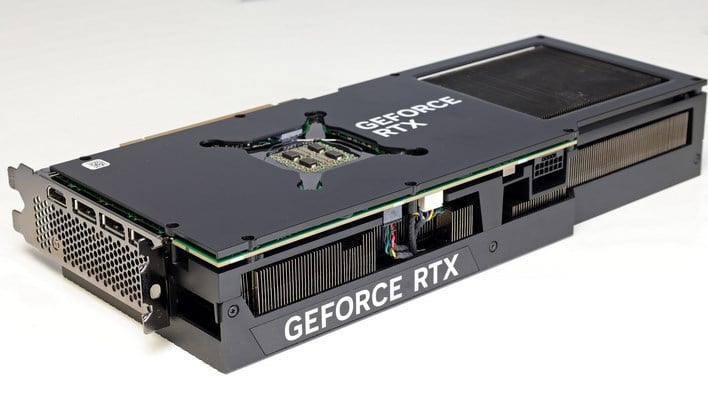 The OEM version of Alienware's GeForce RTX 4090 GPU is supported by a spacer and GPU retention bracket at the bottom of the chassis that mounts to the edge of the PSU cage.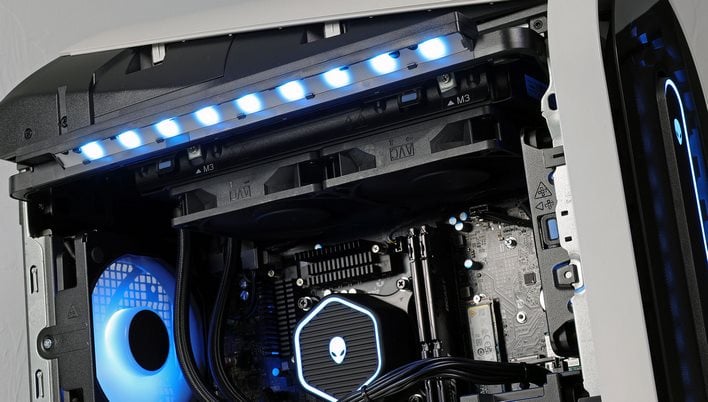 If we pull up on the backlit Alienware logo lighting bar that covers the new 240mm heat exchanger, we can see two more 120mm fans pushing warm air through the radiator and out through the top of the machine. Again, the Dell-Alienware team walked the line of both style and function here, with a heavier duty CPU heat exchanger that's nicely illuminated in RGB goodness.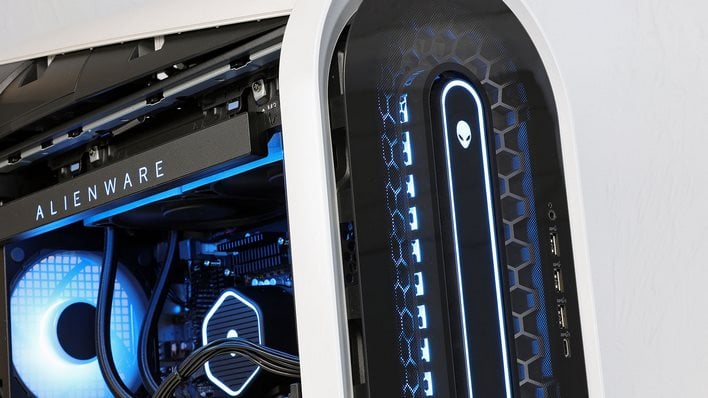 Then there's the Alienware Aurora R15's redesigned front panel IO and chassis shroud. This design has been present since at least the Aurora R13 series, and it has a perforated honeycomb insert that lets in a lot more cool air through the front of the chassis, but also provides good structural rigidity. Through the back panel IO (above on this page), you get a bunch more USB-A and Type-C ports, but none of which are Thunderbolt-equipped, which is a drawback, and only support up to 20Gbps. There are various USB-C and Type-A ports as well on the front panel, which max out at USB 3.2 Gen 2 speeds (20Gbps) with Powershare.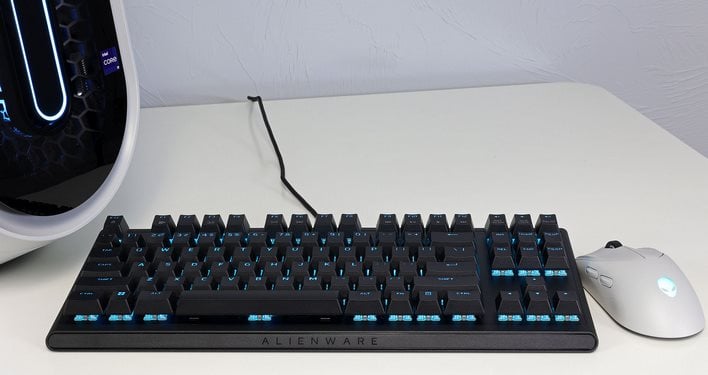 Alienware also tossed some peripherals into the fray with its 420K Tenkeyless Gaming Keyboard and 720M gaming mouse, all of which coordinate RGB lighting in Alienware's Command Center software. The compact TKL keyboard drops the numpad to save on some desk real estate, but with Cherry MX Red key switches, it has a satisfying linear, non-clicky bounce.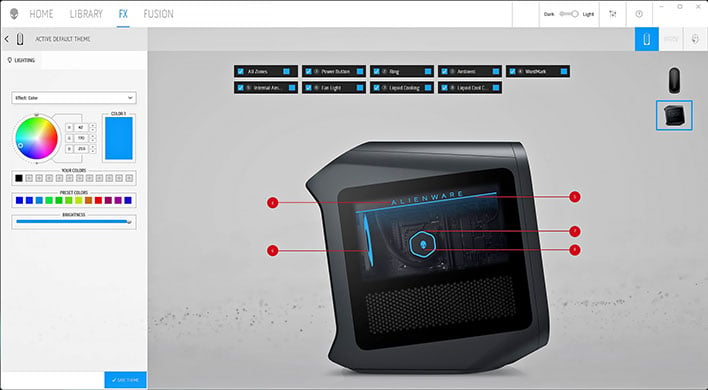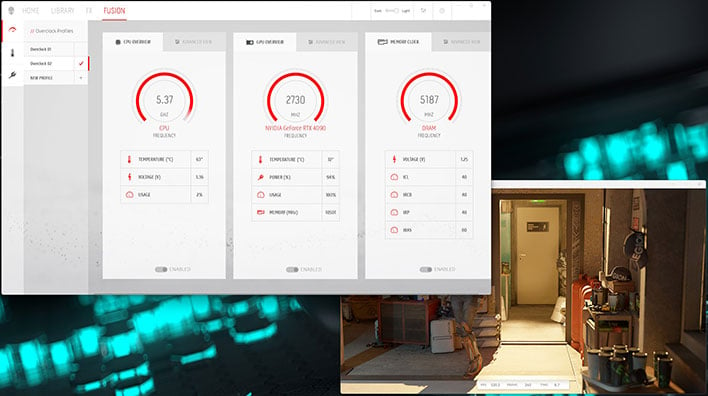 Before we head on to the benchmarks, have a gander above at Alienware's Command Center software, which has undergone recent overhauls and refinements. It's a comprehensive suite of system health monitoring, lighting control and performance-tuning utilities, including overclocking. In fact, our system was perfectly stable at Alienware's factory-set "Overclock 2" configuration, which puts a little more juice into the CPU. As you can see above, it holds at a tepid mid-60ºC range while gaming, so that's
how we tested
the machine in all of our benchmark runs ahead.
We'll be sure to torture this alien beast properly though, with both CPU and GPU 100% loads, so let's get to some benchmarking and stress tests, next…